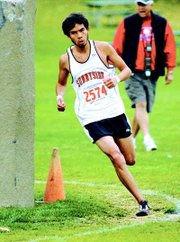 YAKIMA - The top two runners on both the Sunnyside and West Valley squads all finished within six seconds of one another in yesterday's boys cross country race at Yakima's Franklin Park.
"They were really bunched together," said Sunnyside Coach Robin Bryson, explaining that the meet was up for grabs.
The pendulum swung the Grizzlies' way, however, when Sunnyside's No. 3 runner, Gracen Gonzalez, finished 34 seconds in front of the Rams' third finisher, Brian Stump.
But, West Valley closed ground when its No. 4 runner, Kyle Jones, clipped Sunnyside's Matt Omlin by a single second at the finish line.
With the victory hanging in the balance, the two teams' No. 5 runners sped towards the finish. When all was said and done, Sunnyside's Patrick Watts hit the tape in 17:58, compared to No. 5 harrier Hunter Olden of West Valley, who crossed the finish line in 18:02.
"This was the first time Patrick (Watts) was under 18 minutes on this course," said Bryson. "I'm not certain, but I think it's the first time he's ever finished under 18 minutes."
The nip-and-tuck meet ended up in the Sunnyside boys' favor, 27-28.
Jacob Rogers was the top finisher overall between the Grizzlies and Rams. The Sunnyside standout recorded a clocking of 16:50, slightly slower than the time he posted on the same course two Saturdays ago.
"He was a little slower," Bryson said of Rogers' performance yesterday, "But the race went out slower than it did two weeks ago."
Second in for the Grizzlies Thursday afternoon was Jordan Esqueda. He clocked a 16:59 on the three-mile Franklin Park course, considerably faster than his performance there two weeks ago.
West Valley's top two runners, Tim Kruse and Rylie Hausken, posted times of 16:52 and 16:53.
Sunnyside's boys also competed against Kamiakin yesterday at the Yakima course, but as expected, the Braves ran away with an overwhelming win (18-41).
"Kamiakin won our league title, and is state ranked," said Bryson. "They're a step above just about everyone around here. They had four runners in before our top runner finished."
In yesterday's girls cross country race, the Lady Grizzlies were decisioned by both West Valley and Kamiakin.
Sunnyside's top finisher was Brittany Messmore. Her clocking of 20:24, said Bryson, "...is a nice improvement from the last couple of weeks."
West Valley's top finisher proved to be Lisa Olander, with a clocking of 19:37. Rams teammate Stephanie Shuel also broke the 20-minute mark with a clocking of 19:49.
Sunnyside's second through fifth place finishers in the girls race were Jocelyn Yanez (21:02), Marlene Manzo (23:20), Lupita Arriaga (23:43) and exchange student Barbara Muellauer (27:37).
The regular season is now completed for the Sunnyside harriers. Next up on the horizon is the District meet, to be staged in Wenatchee next Thursday. Although all of the varsity runners will advance from District to the Regional meet in Spokane, Bryson said the Wenatchee race will give several of her runners an opportunity to extend their season.
"We're pretty well set on who our top five boys runners are," said Bryson. "But we get to take seven runners to Regionals.
"We have four or five boys who are running within 10 seconds or so of one another, who'll be competing for the sixth and seventh spots to Regionals."
Those harriers include the likes of Kennedy Sarmiento, Jose Sanchez, Sean Olivarez and Osvaldo Arroyo.