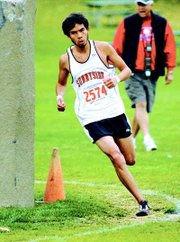 PASCO - Bickleton's Junior Hernandez and Danielle Raschko each claimed a victory for Bickleton at a cross country meet in Pasco yesterday (Thursday). This is the first time it's happened in the six years since Bickleton re-started its cross country program.
Hernandez has been vexed by Riverside's Luke Miller whenever they're paired up in a meet, but not yesterday.
Bickleton Coach Darrell Lang said that Miller took the early lead, but, "Junior paced himself very well running a 5:40 first mile and staying back of Miller. But unlike three weeks ago, Junior did not wait until the last half-mile to overtake (him).
"He made his move at about the halfway mark and continued to pull away, as his time was 29 seconds ahead of Miller's." Hernandez finished in 18:29.
Lang said that two years ago he nicknamed Hernandez "Little Pre" after Steve Prefontaine of Oregon running fame because of his strong runs. "Last year, he struggled to regain his form due to illness and I didn't use that (nickname). But (Thursday) we saw the return of Little Pre.
"He still has work to do and goals to accomplish to be able to return to State this year, but it will not be because he lacks heart."
Bickleton's Patrick Maeder had a top 10 finish yesterday, finishing fifth in 19:55.
"A few weeks ago I said that Patrick had the potential to be a top ten runner, and it has been a pleasant surprise that he has been making my prediction come true," said Lang.
"He improved his time by over one minute and was aggressive and competitive for the second race in a row."
Maeder and his teammate Edgar Molina both posted personal records for the 3.1 mile course in Pasco. Molina finished 24th in 23:19. James Rasmussen finished 32nd for Bickleton in 25:21.
Raschko took an early lead in the girls race and steadily pulled away from the other runners, winning by over a full minute. She clocked in at 22:34. Erika Cole of Tri-Cities Prep finished second in 24:02.
"She improved her time by 21 seconds on this course from two weeks ago without any challenge from the second and third place runners from Tri-Cities Prep.
"Danielle appears to be coming on strong as she and everyone else looks forward to the Regional championship in two weeks," said Lang.
Raschko's teammate, Christina Wilson, had a sixth place finish for Bickleton yesterday, clocking in at 24:52. It's Wilson's highest varsity placing for this year.
Lang said, "Even though this race was between just a few other B teams, the Pirate runners all made very good improvements over their times from just two weeks ago on this same course. The great reward for this race was two first place medals and ribbons for the top 10 finishers."
Lang noted there are two meets and six practices left until Regionals. "It appears the Mighty Pirate harriers have set their sails and are on course to have a really great run for glory, as the top 10 finishers at that race will qualify for (State)."