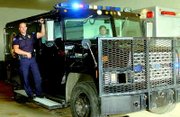 GRANDVIEW - The Grandview Police Special Incident Response Team has just inherited a SWAT vehicle from the Washington State Patrol SWAT team.
Grandview Police Officer Travis Shepherd had heard via word of mouth that the state patrol received a Homeland Security grant to purchase new SWAT vehicles and learned that the state would likely surplus an older vehicle. Grandview police drafted a letter and were accepted to be recipients of the vehicle.
Said Grandview Detective Seth Bailey, "To look at it, it looks like a (armored) bank truck."
Shepherd and Bailey said that previously, the Grandview team used a retired ambulance.
Shepherd said there are a few benefits to having the new, donated vehicle from WSP. It's an armored vehicle with bullet-proof glass and it can carry more police officers. Officers can also ride on the outside of the vehicle.
Shepherd said another benefit is that it can be used as a command center, all officers have to do is plug in a computer and utilize the desk and white board that comes with the vehicle.
All it's missing, he said, is a radio. Other than that, it's fully loaded.
Shepherd said the fact that it has more than 150,000 miles won't hinder its use, because most incidents that the Special Incident Response Team go to occur within a five or six-mile radius.
"This is great for Grandview," Shepherd said.