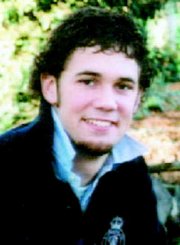 Since news of their former classmate's death last Friday, friends of B.J. Miller have quickly swung into action to support his family.
Miller, 19, passed away following an accident that happened last Thursday on I-82 near Prosser.
According to Marissa Gomez and Becky Fernandez, who graduated with Miller from Sunnyside High School last June, friends of his wanted most to be in Seattle where Miller had been transported following his injuries.
But, said Gomez, "We understood the situation."
Instead, they created t-shirts in honor of Miller that feature his birthdate (Oct. 9, 1988) and the day of his death (Oct. 12, 2007) on the front, as well as the words "Gone but not forgotten, Class of 2007" on the back.
Once the design was made, friends of Miller's made contact with the owner of Aztlan Sportswear in Sunnyside to get the shirts printed. So far, about 200 shirts have been ordered.
Fernandez and Gomez said that the goal is to have community members show their support for the Miller family during this Friday's homecoming game by wearing the shirts. They said to order a shirt, one simply needs to call Aztlan Sportswear and that the shirts can be purchased for $12.
This week is homecoming week at Sunnyside High School.
Miller's death came as a shock for Gomez. "We were just with him Saturday (before the accident), telling fun stories and having a good time. It's hard to believe that just within (a matter of) days, things can change."
Fernandez described Miller as "fun loving, crazy and whacky. There was never a dull moment with B.J. One of my fondest memories of him is seeing him dressed up as a cheerleader during powder-puff, with a wig, fake butt and his big old grin from ear to ear."
Dave Martinez, who used to coach Miller in baseball, recalls B.J. as a young man that was dedicated to sports. "He was a kid that was so fun to be around. He always had a big smile on his face and he worked real hard on the field." Martinez also noted how supportive his parents were of his high school career.
Martinez said Miller knew when to work hard and when to take it easy. And, he added, "He could ease the tension with just a smile or comment."
Sunnyside High School Athletic Director Bill Daley described Miller, who also played football, as a caring young man. "He was just a positive influence on his team, on his class."
Daley said of one football game last year, "He broke his leg. He continued to play, then found out the next day it was broken. His commitment was at a very high level."
Daley added that Miller holds the all-time scoring record for Sunnyside High School rushing touchdowns.
When Sunnyside struggled with its football record, Daley said, "He was the glue that held them together."
Said Fernandez and Gomez, "He's impacted not only us as a (graduating) class, but the school, the coaches...they're really taking it hard.
"Homecoming's just not the same this year."