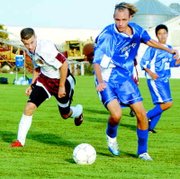 We had all our ducks in a row at the same time," Sunnyside Christian High School boys soccer coach Tim DeGroot said of his squad's 4-0 league win over Trout Lake this past Friday.
Things were indeed "ducky" for the Knights, which pounded 41 shots on goal against Trout Lake.
Sunnyside Christian took control early in what DeGroot called his squad's best match of the year on Michael DeGroot's goal in the 12th minute off an assist from Jesse Brouwer.
The Knights' Doohong Park followed just five minutes later with a goal, off a feed from Brenan Swofford, who flicked the ball over to Park for the shot.
Park also had a hand in the Knights' third goal, which came in the 49th minute when Park provided a touch pass to Hessel Veldhuis, who found the upper right-hand corner of the net.
Sunnyside Christian closed out match scoring in the 56th minute, when Michael DeGroot scored on an assist from Joel Koopmans.
Coach DeGroot said Sunnyside Christian may have been able to score 15 or 20 goals on the day were it not for Trout Lake keeper Kris Wood.
"He's the best keeper in the league," DeGroot noted. "He gives us fits. He stops shots that are supposed to go in. Nothing seems to phase him."
DeGroot credited his team's offensive punch to going after what he calls "50/50" balls, shots lofted in the air that could go to either team.
For example, he noted that 30 of Trout Lake's 33 goal kicks were won by Sunnyside Christian players. That in turn makes for a shorter field. "Instead of having to run 100 yards for a score you only have to go 25 or 30 yards," DeGroot observed.
That, in turn, benefited the Knights on the defensive front as Sunnyside Christian keeper Connor Erickson only had to field three shot attempts.
The Knights were home again this past Saturday for a non-league tilt against St. George of Spokane.
The match ended in a 1-1 draw, with both DeGroot and the St. George coach agreeing to not pursue an overtime. "Players on both teams were tired and that's when injuries can happen," he noted.
Sunnyside Christian scored first on a goal by Swofford in the 26th minute on an assist by Joel Koopmans.
The Knights appeared they may be able to eke out a win, until St. George struck in the 77th minute, just three minutes before the match would have concluded.
DeGroot said both teams were evenly matched, and praised Erickson's play in goal, as the keeper recorded five saves.
Sunnyside Christian (4-1, 10-1-1) hosts league foe Riverside Christian this Tuesday.