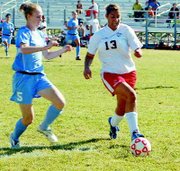 The Sunnyside High School girls soccer team kept undefeated West Valley out of the net for more than a quarter of the match, before losing 9-0 at home this past Saturday.
It was an improvement over the first time the two teams met earlier this season, in which the Rams scored three times in the first 16 minutes on the way to a 14-0 romp over Sunnyside.
West Valley knocked home its first goal in the 25th minute, then booted in three more goals in the final 10 minutes of the half to make it a 4-0 halftime lead.
"We came out with pretty good intensity," Sunnyside Coach Jon Soule said. "Our defense was solid and they had fewer fast breaks so we played a better defensive game."
Sunnyside's Yesenia Ruiz and Ruby Herrera teamed up for 14 saves to help keep the Rams at bay.
Sunnyside had five shots on goal for the match. Soule said the Lady Grizzlies' best chances were in the first 20 minutes of the match and in the final minutes of the contest on shots the West Valley keeper dropped but was able to recover.
"Our energy level was pretty good but West Valley was more aggressive in getting to the ball than we were," Soule observed.
With just two regular season matches left, things get serious for Sunnyside (1-9, 1-13), which is still alive for a Columbia Basin League playoff berth.
Sixth place Sunnyside hosts Hanford tomorrow, Tuesday. The Falcons are narrowly ahead of Sunnyside in the standings. The Lady Grizzlies close out the regular season at Kennewick on Saturday, which is in seventh and last place just behind Sunnyside. Six of the CBL's seven teams will advance to postseason play.
Soule feels that if Sunnyside can gain a split of the final two games it should be able to punch its ticket to the playoffs. "This is playoff week for us," he added.