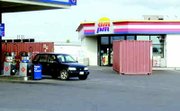 The Sunnyside AM/PM located on Waneta Road, near I-82 exit 69, closed Monday, Oct. 15, to begin renovations of both the store and gas pumps.
The store will undergo a complete remodel to include a new bakery, complete with donuts, according to manager Alicia Aguilar.
She said the gas pumps are old and will be replaced with new pumps, in addition to the store remodel.
As of last Friday, dumpsters could be seen outside the store for the disposal of anything that will not remain.
Aguilar said, "This is very exciting because we really need the remodel. Our customers will be able to return upon our reopening on Wednesday, Nov. 7."
She is especially excited about the new bakery to be included, stating the donuts will be fresh each morning.