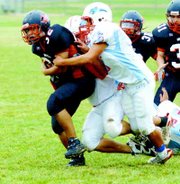 The Sunnyside High School JV football team staked itself to a 22-17 first half lead against the visiting Eastmont junior varsity yesterday, then used a punishing ground game and excellent defensive play after intermission to make the score stand up.
The 22-17 victory improved the JV Grizzlies' record to 5-1 on the season. Sunnyside will next play on Monday, Oct. 22, at Hanford.
In the second half, said Sunnyside JV Coach Eric Berg, "We ran the ball down their throats.
"Five of our guys ended up rushing for 178 yards. That was the key for us, to take control of the clock in the second half," Berg said.
Berg also praised the play of his defensive unit, for shutting down the visiting Wildcats after intermission.
Individually, middle linebacker Mario Saldana especially posted some big numbers against Eastmont. Saldana shared team high tackling statistics with defensive tackle Jason Rollinger, each of whom was credited with five stops. Saldana also had one quarterback sack and picked off an Eastmont pass.
Sunnyside safety James Sanchez came through big yesterday, too, as he intercepted an Eastmont pass in the second quarter and returned it 40 yards for a touchdown. The ensuing two-point conversion run by Danny Almeida boosted Sunnyside's lead over Eastmont to 22-10 at the time.
Also on the defensive side of the ball for Sunnyside, defensive end Victor Campos had four and a half tackles; outside linebacker Joseph Palomarez had two sacks; cornerback Ricky Lopez snared an interception; middle linebacker Jacob Arrevelo was in on four tackles and defensive end Robert Campos sacked the Wildcat QB once.
Sunnyside opened a 6-0 lead on the visitors on a 15-yard, first quarter run by Almeida.
After a long scoring pass by Eastmont gave the 'Cats a 7-6 first quarter advantage, Sunnyside took the lead for good early in the second quarter...on a seven-yard TD run by Saldana. A two-point conversion pass from Palomarez to Victor Rios gave the Grizzlies a 14-7 lead.
Eastmont countered with a field goal to cut the deficit to 14-10, but the interception that Sanchez returned to pay dirt upped the Grizzlies' lead to 22-10. Eastmont connected on one more long scoring pass before the half to close to within 22-17, but the 'Cats couldn't find the end zone again and ended up absorbing the five-point loss.