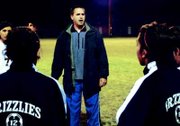 The Sunnyside High School girls soccer team was just 10 minutes from making history last night, Tuesday, but it all came undone in a 4-2 shootout loss to Hanford.
The Lady Grizzlies grabbed a 1-0 lead 10 minutes into the home finale when Michelle Galvan found the back of the net off an assist from Myra Serna.
Sunnyside made the lead hold up through the rest of the first half and through most of a second half onslaught of goal tries by the Falcons.
"We became tentative. We tried to sit on the lead," said Sunnyside Coach Jon Soule.
Sunnyside keeper Ruby Herrera made a valiant attempt to keep the Falcons at bay, recording 14 saves on the night. One of them was a diving, one-handed swat of a one-on-one shot attempt midway through the second half by a Hanford player on a breakaway run.
Hanford finally broke through with 10 minutes left in the match after Sunnyside failed to clear the ball from in front of their goal. A Falcon player managed to get a foot on the ball and Herrera caught then dropped the shot attempt. A second Falcon then swooped in for the equalizer.
The Lady Grizzlies responded well to the late match disappointment, putting on a furious rally in an attempt to win in regulation.
Sunnyside was unable to find that second goal, though, and the match remained at 1-1 after two overtimes.
That set up the shootout, which Hanford won 4-2.
The match was a must-win for both Hanford and Sunnyside, aiming for one of the Columbia Basin League's five playoff spots. "It was do or die for us," said Soule.
If Sunnyside (1-10, 1-14) had defeated Hanford and then won again over Kennewick in this coming Saturday's season finale they would have earned a playoff berth. A win over Hanford last night would have also been the Sunnyside girls first win over the Falcons in a long time, if not ever.
As it stands, Sunnyside's playoff hopes are gone. Still, Soule said his players will give it their all this Saturday at Kennewick. "We're playing for pride," he said.