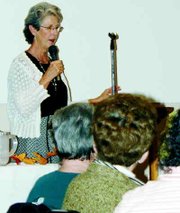 PROSSER -The Lower Valley Christian Women's Club was regaled by guest speaker Donna Kilgore of Baker City, Ore. at its regularly scheduled meeting, held this past Monday at the Barn Restaurant.
Kilgore compared life to gardening, telling the ladies of the club that there are rocks, weeds and bugs in the garden of life.
"We all want to be successful in whatever we do in life," she stated, saying she had been voted "most likely to succeed" by her high school teachers, although she was engaged to be married her senior year.
"I couldn't understand why the teachers voted for me...I wasn't going to college," Kilgore noted.
She told the women's club members she has had successes and failures in life, and nothing has been noteworthy about her life.
"But, life is a lot like a garden...we want it to be perfect, but it takes a lot of work and we encounter hardships," Kilgore stated.
She said she married her high school sweetheart and shortly after their first child had turned a year old, her younger brother was killed in a hunting accident. "I began thinking about God and I felt my 18-month-old son needed to learn about Him," said Kilgore.
She said it was a difficult time for her because she could not fix the fact that her brother had been killed.
Kilgore began attending church and teaching Sunday school, however she had not yet developed a relationship with the God she was learning and teaching about.
Shortly after Kilgore's third child was born, the family moved to a new home and she busied herself. "I became too busy for church, but noticed my neighbors went to church a lot," she stated.
When Kilgore's neighbor invited her to church, she accepted the invitation and heard about a personal relationship with God for the first time. "It was overwhelming, and I didn't think it was for me," she said.
The following day, the pastor of her neighbor's church paid Kilgore a visit. He shared with her that no one is without sin and shared the verse of John 3:16 with her.
After praying with the pastor, Kilgore said she became a "...new person. The changes were immediate...I felt peaceful and joyful."
She said her husband couldn't figure her out because she was "...one way when he left that morning and another way when he returned."
After several months of Kilgore's new personality, she said her husband made the same decision to have a personal relationship with Christ.
"But I still hadn't tended certain areas of my life and weeds began to take control. I felt fear of the future, tried to control others and when we suffered a severe financial set-back, losing our home, I didn't handle it well," Kilgore said.
She said she couldn't pray and left her Bible untouched. However, God gently drew her to him, using her husband whom Kilgore had believed was "growing" right in his relationship with Christ.
Another set-back was experienced when the couple's daughter, age 19, died in a fire. "This time, God brought me comfort. I was beginning to learn my 'heart attitude' had much to do with healing," Kilgore said.
She stated she began feeling more at peace, experiencing joy and hope in knowing she would see her daughter again.
"My garden is now one of the best. It has good soil and few rocks. God is showing me I can trust Him," Kilgore stated, continuing the thought with, "Joy is not dependent on one's circumstances, but upon the faith one has in God. He will make us stronger, giving us deeper roots."
She said she has learned that giving God complete control is the only way to success.