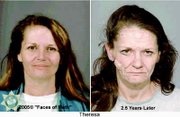 Methamphetamine has been out of the limelight in terms of news, unless, of course, you count advertising.
Lately, there's been a big push for methamphetamine treatment in radio and print advertising. But news of meth lab busts are very rare.
There's good reason for that, said Mike Aikens, a detective with the city of Grandview assigned to the Law Enforcement Against Drugs task force.
"It's legislation that worked perfectly and actually stopped the manufacturing of meth in our area," he said. Sudafed is a main ingredient in methamphetamine and is no longer purchased from store shelves. In order to buy it, one must show proper identification.
It wasn't just legislation. Aikens said that cooperation from retailers when it came to excessive purchases of lithium batteries, also an ingredient in meth, and valid users of anhydrous ammonia coming up with ways of securing their supply, also played a role in the decline of meth labs.
Doug Hintze, the supervisor for the Law Enforcement Against Drugs task force, said there hasn't been a single meth lab bust in the last year.
That doesn't mean there isn't still a supply and demand issue, though. Hintze said, "There's no reduction (in use) at all. There's as much or more out there."
Aikens said methamphetamine is being imported from Mexico. "So there's still a supply and demand problem, for certain. They risk all to bring it up here from Mexico."
Despite the task force's success in seizing large amounts of meth in this area, it's still out there, Aikens said.
Aikens said that he believes many users of methamphetamine are always looking to go to treatment. "I haven't met too many people that don't want to go to treatment. Affordability is probably a problem," he said, adding, "Methamphetamine is a hard drug to kick. I've heard that some people become addicted the first time they try it. It's one of the most highly addictive substances."
Paul Jepson, a drug and alcohol counselor for Merit Resources, agreed. "It's an extremely addictive addiction. People get locked into a lifestyle."
Jepson said methamphetamine releases high levels of the neurostransmitter dopamine, which stimulates brain cells, enhancing mood and body movement. By the same turn, it also damages brain cells that contain dopamine and seratonin, another transmitter. He said that oral or intranasal use produces euphoria and that smoking or injecting it produces a "rush."
"People become addicted much quicker on methamphetamine. It just alters the brain's chemicals so quickly."
Jepson said it's one of the worse drugs in terms of binge use. "I hear stories of people being up for 20 days or more before they crash."
Jepson agreed that many meth users want to go into recovery. But the treatment, he said, typically takes a longer period of time.
Treatment options include intensive outpatient treatment. "We are able to offer a variety in length of treatment options based on the severity of the patient's substance abuse. We individualize their treatment plan based on their needs.
"Additionally, we will assist the patient with making arrangements for inpatient treatment at another facility, if needed," Jepson said.
He said that he believes the big advertising push for meth treatment is because the recidivism rate is so high.
Methamphetamine, he said, "just tears people down so quickly. It brings them to their knees."