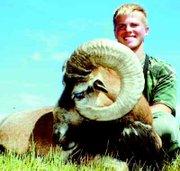 GRANDVIEW - Keagen Christensen recently learned he received the prestigious Safari Club International Young Hunter Award, a contest in which young people from around the world are encouraged to apply.
According to Doug Luger, who is a trophy records manager for the international club, Christensen is among three winners this year, which is unusual.
"They were all cream of the crop," he said of applicants of the award. With the winners, he said, "It was a three-way tie. They all qualified for the tie-breaker, which is whether or not they've attended any Safari Club International camps for young people."
As a result, Christensen shares the honor with Austin McMann of Cashmere, Wa. and Justin Fox of Orange County, Calif.
Luger said that it's important to note the award isn't all about killing an animal. "It's not about how many animals you kill. It's more about life and really understanding what hunting is and defining it."
Christensen's application consisted of about 45 sheets of paper and included family photos, hunting photos, certificates of achievement, letters of recommendation from local school and college administrators and an essay describing how to be a role model for hunters.
"He wrote the best essay we received, I can tell you that," said Luger. "He's very good at putting words on paper."
That's not surprising, considering Christensen has been a published author for about a year now, publishing first-person accounts of hunting trips for Safari Club International.
When asked last year how long it took him to write the first story that was published in the international magazine, Christensen said numerous hours. In just this past year, he's trimmed down the writing time and gotten more confident. Just recently, he was asked to write a story for an international publication and said it took "only a few hours."
It's not just his writing ability, though. Christensen was judged on his conservation and community service acts. Christensen's hosted several seminars for young people on camping, survival and shooting. He's attended the club's American Wildnerness Leadership School and he's an official measurer for Safari Club International for trophy animals, which is very, very rare among young people.
Said his dad, Gary Christensen, "He's one of very few youth that has qualified to do that."
The younger Christensen's accomplishments and service projects are widespread and they are things he's done since he was a young boy.
When he got the call that he'd received this award, Keagen said, "I could barely talk to the guy, I was just so excited. After working that hard for that long, it's good to see it has paid off."
Christensen will be honored in Reno, Nev. during a Safari Club International hosted awards dinner and Luger, for one, can't wait to meet him.
"His whole life exemplifies his strong, good character, which shows his passion for what he loves and how he's shared it with other people," Luger said.
"His is a lifestyle, it's not just hunting season, it's a lifestyle...He's a remarkable young man and I'm anxious to meet him," said Luger.