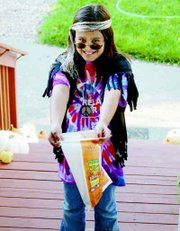 Come Halloween, about 30 Sunnyside High School Key Club members will don costumes and go door to door, trick-or-treating to raise money for UNICEF.
According to Key Club Advisor and SHS assistant principal Ryan Maxwell, funds raised from the project will help HIV/AIDS patients in Africa. "In particular, (it will be used) in Swaziland," he said.
Maxwell said that UNICEF is closely aligned with Kiwanis and Key Clubs and that by helping UNICEF, kids are able to understand giving on a global level.
"It's a way for our kids to do something for the world," he said.
Maxwell said that in Swaziland, 40 percent of the adult population has HIV and that 21 percent of the population's children are heads of households because of the death of one or more parents from AIDS.
"What's neat about Key Club is (the students) think about Sunnyside, the state and the country...(but also learn about) helping all life, all societies."
SHS sophomore Chelsea Garcia is among the students who will trick-or-treat for UNICEF on Oct. 31. She said she understands that ours is a blessed society, comparatively speaking, and she hopes that will compel local folks to give to the project.
"Whether it's a penny or $5, it's the thought that counts," said Garcia.
Garcia said that the Key Club students will have small UNICEF collection boxes.