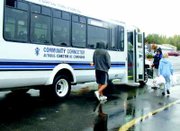 YAKIMA - As a part of its transportation services provided to the Lower Yakima Valley, People for People has obtained a new 28-passenger bus.
The bus is an Eldorado National Aero Elite, which replaces a bus that had been capable of carrying 21 passengers and was aging.
A wheelchair lift, bicycle racks and integrated child safety seats are featured on the new bus.
The purchase of the bus was made possible in part through a Washington State Department of Transportation capital grant award, according to People for People's Lance Durbin.
The Lower Valley is served through the Community Connector, providing transportation for community members traveling between Prosser and Yakima.
An increase in riders since 2002 has warranted the need for the new bus. The Community Connector provides more than 29,000 passenger trips annually and logs more than 100,000 miles each year. It connects people from throughout the Lower Valley Monday through Friday and is a fare-free service, providing individuals with access to health care, social services, employment, education and basic human services.
When surveyed recently, 40 percent of the individuals indicated the need for the service due to a disability. Because of the lack of other means of travel, 57 percent of those surveyed said they utilize the transportation services of the Community Connector. Another 38 percent of the individuals surveyed indicated they use the service for medical, dental or other health care appointments.
People for People believes in providing safe, efficient transportation services for community members needing to connect with other services, according to Durbin. He said, "We are pleased that Washington State Department of Transportation supports the Community Connector and has provided funding to purchase a new vehicle."