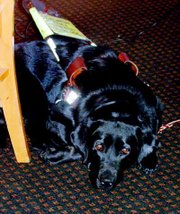 Perhaps it's difficult for some people to understand the intimate relationship between a guide dog and its master. But not for Nouvella Club members, who heard yesterday from Guide Dogs for the Blind, Inc.'s Alumni Association Board Vice Chair Sally Mayo of Yakima.
Mayo explained to club members how the organization pairs dogs with folks who are visually impaired.
Mayo has been paired with three guide dogs over the years and brought her current guide dog, Mandarin, to the meeting.
"Being partnered with a guide dog is an incredibly freeing thing," she said. "It's an incredible partnership that's just real hard to describe. The nice thing about the dogs is they take us around obstacles we don't even know are there."
Mayo said that those who will receive a dog visit one of the Guide Dogs for the Blind, Inc.'s campuses, either in Oregon or California, for 28 days and go through extensive training.
"You walk five to six miles a day. You work with the dog and you're dead to the world at night because they just do so much," she said.
The purpose of the 28-days is to orient the master as much as the dog. Mayo said the school puts the visually impaired person in all kinds of situations, like heavy traffic, railroad crossings and subways, fostering trust in the dog to let the master know what's coming.
Mayo said that there are what are called "puppy raisers" for the school, or people who breed dogs who will be used at the school. She said they primarily raise labs and golden retrievers and that German Shepherds are being phased out.
Some dogs don't work out and become "career changers." Dogs who are too "sniffy" might change to becoming a drug dog.
Mayo said that many people don't understand that a guide dog is a "working dog." Distracting the dog from its job can cause problems for its handler, especially when crossing the street. It's up to the dog to get the person safely to the curb and distracting it from its purpose could cause harm.
Mayo said the organization is strictly run by private donations.