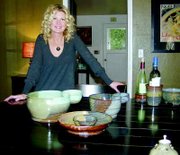 GRANDVIEW - Carman McKinney will be hosting her annual Muskat pottery fall show Saturday, Nov. 3.
The show will feature creations designed by McKinney, including serving dishes, platters, chips and dip bowls, candle holders, coffee mugs and much more.
The designs are a "labor of love" for McKinney, who has her own studio in the basement of a friend's home.
She said she hosts her show in her own home, however, to allow community members to view the Muskat pottery each year during the gift giving season.
McKinney will have some bisque pieces on display for the purpose of custom glazed wares. She said there are times an item is "...not the color desired."
She will custom-glaze the items purchased to suit the preference of the buyer.
Also featured will be vases and wine holders designed to keep wine chilled.
"My most popular pieces are the wine holders," McKinney stated.
The showing will be from noon to 6 p.m. at McKinney's home, located at 1721 Grandridge Road in Grandview.
For more information or for directions, call McKinney at 509-305-8200 or Wendy Applegate at 509-786-6898.