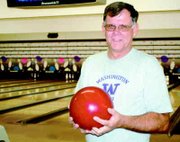 "I'm left-handed so I had resigned myself to the fact that I would never get all strikes," Lower Valley bowler Rod Spencer said of his quest for the elusive perfect 300 game.
Well, 300 is elusive no more for Spencer, a bowling league veteran at Valley Lanes in Sunnyside. The Prosser resident rolled a perfect 300 game on his way to an 802 series last Sunday at Bowlaway Lanes in Walla Walla.
Spencer's mark came during a Columbia Basin Travel League match that features players from as far away as Pullman and Pendleton, Ore. "It's a scratch league. There's no handicap, you get what you get," Spencer said. "The competition is tough and it brings out the best in me."
The 800 series is no small feat and, as with his 300 game, will earn him a special ring from the United States Bowling Conference.
"It means you have to have three really good games," he said of the 800 series mark.
Spencer had flirted with 300 perfection before, bowling a 298 in Pasco two years ago when he just missed two pins on his 12th and final throw.
Last Sunday night was special from the outset, though, as Spencer rolled a 279 in his first game, missing a perfect game when he left the four pin standing in the fourth frame.
He followed that up with a 223 mark in game two.
That set the stage for game three and perfection.
Spencer said he was playing board five and noted the lane conditions were excellent.
In game three Spencer and his 16-pound ball finally found a perfect mark. He noted that all of the strikes were clean, though, "a couple were up a little tight."
The 300/800 mark is just one more feather in Spencer's cap. He carries a 207 average and is a member of the Lower Valley Bowling Association Hall of Fame. His previous high three-game series mark was 754.
Spencer has served as secretary for one bowling league or another for the past 20 years or so.
As with a no-hitter or perfect game in baseball, Spencer said bowlers have their own superstitions when a perfect 300 game is in the works.
"Everybody just kept bowling, no one stopped to watch, no one said anything to me about it," Spencer smiled as he recalled his night of 12 perfect strikes.
So how did Spencer celebrate after finding perfection?
"I still had a fourth game to bowl," he smiled. He wasn't far off the mark in the fourth one, either, rolling a 269 for a four-game total of 1,071.
"It was just my night," he laughed.