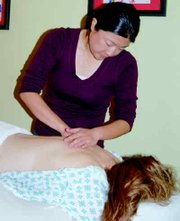 GRANDVIEW - Yakima Valley residents mulling a career in rehabilitative massage may want to consider Lower Valley School of Massage, located right here practically in their own back yard.
Owner Sunee Conklin opened the school two years ago after three years of successful practice on her own.
What makes her school stand out, she says, is the fact that it's the only school geared toward rehabilitative practice.
"Other schools in the valley do teach Swedish massage, but do not teach rehabilitative massage," Conklin said. The closest schools that teach rehabilitative massage are located in Seattle and Spokane.
Conklin said there's a significant demand for rehabilitative massage therapists. "There aren't that many people trained in rehabilitative massage. The demand and need is out there.
"It's starting to become very much a demand with physicians, chiropractors and physical therapists."
She said it's not uncommon to receive phone calls from out of the area people who are interested in recruiting her graduates. "It's not just calls from Yakima or Tri-Cities. We're on the national school registry."
Conklin said it's a one-year program with the goal of graduating with a certificate from an accredited school. "This gives them the ability to take the national boards and become licensed massage practitioners."
Students actually get two forms of education, she said. The reason for that is because they can either practice in rehabilitative massage or a spa setting.
When it comes to instructors, she said, "We try to provide a high quality of education, therefore we hire instructors who have degrees in specific fields. Students become well educated in human anatomy and physiology, which is really important in rehabilitative massage."
Students study two nights a week and there's a reason for that, she said. "It's geared toward people transitioning from one career to another, or people who want more family time or are working at another job."
She added that financial aid through student loans is available. "Worksource has also helped some of my students who qualify." The school also has a payment plan.
Conklin said that tuition is $7,000.
Conklin said that she is currently accepting registrations to begin a new class in November.
For more information, call the Lower Valley School of Massage at 882-7888.