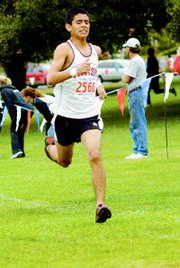 WENATCHEE - They may not have come home with any District titles yesterday, nonetheless, the Sunnyside High School cross-country harriers can revel in the fact they lopped big chunks of time off their previous clockings.
"We had huge improvements across the board," said SHS Coach Robin Bryson.
"And that's always nice," she said.
Of the 24 Sunnyside boys who competed at the Columbia Basin League 3A District meet Thursday at Wenatchee's Walla Walla Point Park, all of them either ran as fast or faster than they did back on the same course in mid-September.
The one Grizzly who benefited the most from the drop in time was sophomore Jordan Esqueda. His 16:40 clocking on the fairly flat, three-mile course earned him a 10th place finish. In mid-September, he settled for a 17:09 in Wenatchee.
Yesterday also marked the first time this season that Esqueda finished ahead of teammate Jacob Rogers. Finishing in a time of 16:43, 13 seconds quicker than his previous outing at Wenatchee, Rogers notched a 12th place finish yesterday.
Bryson attributes the faster times yesterday to the Grizzlies' recent training regimen. She said early on in the season her runners put in grueling practice sessions. The last two weeks, she said, the Grizzlies have gotten plenty of rest in between their runs.
Kamiakin, as expected, ran away with the boys team title at District yesterday, compiling a meet low 29 points. The Braves' Derek Scott (16:11), Evan Fiske (16:19) and Matt Bare (16:19) finished second, third and fourth, respectively, in the race.
Southridge, behind the individual first place finish of Andrew Gonzalez (15:44), nabbed second place honors in the boys team standings at District with 48 points. Eastmont (90) and Hanford (117) placed third and fourth, with Sunnyside's boys bringing home fifth place honors with 121 points.
"We finished just four points behind Hanford," said Bryson. "We had to run really well to do that."
Bringing up the rear at District in the boys race were West Valley (131) and Kennewick (155).
Third in for the Grizzlies yesterday was Gracen Gonzalez, with a 29th place clocking of 17:14. Rounding out the District meet scoring for the Sunnyside varsity were Matt Omlin, 33rd place in 17:30; and Patrick Watts, 37th place in 17:42. Also competing for the Sunnyside boys team were Shawn Olivarez (18:16) and Kennedy Sarmiento (18:44).
Bryson said Olivarez and Sarmiento will be Sunnyside's alternates to the Regional meet, scheduled for Saturday, Sept. 27, at Wandermere Golf Course in Spokane. Sunnyside's sixth and seventh runners at Regionals will be Jose Sanchez and Osvaldo Arroyo. Sanchez clocked an 18:04 in yesterday's JV race at District, while Arroyo had a time of 18:11 in the same competition.
Brittany Messmore, despite posting a slower time than the clocking she had in Wenatchee several weeks ago, still finished as Sunnyside's top runner in yesterday's girls race. Messmore hit the finish line in 20:12 for an overall 10th place finish.
Lisa Olander of West Valley clocked the fastest girls time at District (19:05).
Hanford won the girls District title with a meet low 41 points. Southridge (53), West Valley (54) and Kamiakin (83) were second through fourth, respectively, with Sunnyside nailing down fifth place honors with 134 points. Eastmont was sixth with 154 points, and Kennewick brought up the rear with an incomplete team.
Also competing for the Sunnyside girls team yesterday were Jocelyn Yanez, 18th place in a time of 20:40; Lupita Arriaga, 34th place in 22:28; Andrea Salmeron, 35th place in 22:33; and Barbara Muellauer, 42nd place in 24:47.
Karina Romero also ran for the Lady Grizzlies, clocking a 43rd place time of 28:28, which was two minutes faster than the clocking she had in Wenatchee in mid-September.
Sunnyside's Marlene Manzo did not compete at District yesterday, but will fill out the Lady Grizzlies' seven-girl roster at Regionals on Sept. 27.
At Regionals, the Columbia Basin League's seven schools will be competing along side the three Greater Spokane League teams-North Central, East Valley and Mt. Spokane. The top three finishing teams in the both the boys and girls races will advance to State, as well as the top 15 individual finishers in both races.