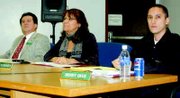 This past Friday evening, concerned citizens met with a panel of city officials, including representatives from the school district and police department, as well as commissioners from the state's Commission on Hispanic Affairs. The purpose of the meeting was to discuss gang problems in Sunnyside.
While Hispanics make up 9 percent of Washington's population, they make up 74 percent of Sunnyside's, according to statistics provided by the commission.
Sunnyside High School student Miguel Luga, who sat on the panel, suggested gang problems be curbed by more parental involvement and support, and more community activities for youth year-round.
Luz Balderos, who represented parents on the panel, said she felt the city's gang ordinance was passed too hastily and expressed concern that too many parents still do not understand it.
She also called for opportunities for parents to learn more.
When Sunnyside Police Chief Ed Radder spoke about the gang ordinance, he said, "People ask how many gang members (we've) arrested by this gang ordinance.
"I believe it's very important that we do not measure our success by the number of youth arrested." He added that he'd rather focus on youth that law enforcement does not have to deal with on a criminal basis.
City Attorney and interim City Manager Mark Kunkler assured the crowd that the gang ordinance is not based on race. He also said it's modeled after a similar ordinance in the state of California.
Kunkler said that the city has worked closely with the school district for the past 15 years. He said that the efforts of the school district are key in terms of intervention and prevention.
Kunkler was asked by an audience member whether or not the city has worked as closely with the Hispanic community, a question that though he was asked repeatedly, he failed to answer or provide examples.
When it came time for citizens to ask questions of the panel, few questions were asked but many statements of opinion were made.
Hector Franco, a citizen, said, "Here in the Yakima Valley, we feel we're under attack...people attack us because of the way we look or the way we dress."
Citizen Jose Leon said he's all for the idea of providing opportunities to young people and he said he's taken notice of the fact that the community center doesn't appear to have many activities.
He asked the commission to try and secure funding from the state to fund more youth programs.
One concerned citizen said that Hispanic families are in crisis and that there is apparently a lack of coordination between multiple groups to resolve it.
Brian Galvan told the panel and commissioners that the Hispanic community feels abandoned by the city. "There are bad people in any race. Most of us are here to simply work and put food on the table." Galvan also made note of the fact that Sunnyside has few soccer fields.
One woman told the panel that she feels that children are encouraged to assimilate into the American culture, thereby undermining their Hispanic parents' authority. She noted that Hispanic children have to speak the language of the American culture to have success. "It seems like a double culture," she said, adding that the Hispanic culture is at home, while the American culture is enforced at school.
Madeline Alviso, a citizen, said, "The people who pass the laws aren't the people who are representing us." She said that in the 1940's, it was people in zoot suits who were under attack, but with the new ordinance, now it's Mexicans, Latinos and Chicanos under attack.
"Yakima County incarcerates more Latinos and Chicanos than any other place and that's the truth of it. And Sunnyside isn't helping much," she said.
Hispanic Commissioner Victor Chacon told the panel, "It's important to think of their kids as your kids. Until then, the sense of loss, abandonment and hopelessness will continue."