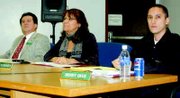 Eric Lee Lopez, 23, of Edinburg, Texas and a former Sunnyside resident, entered eternal rest on Tuesday, July 10, 2007, in Edinburg.
He was born Sept. 6, 1984, in Sunnyside to Sixto Jr. and Marilu Lopez. He graduated from Sunnyside High School with the class of 2003.
He is survived by his parents, Sixto Jr. and Marilu Lopez, both of Edinburg; a sister, Elisa Maria Lopez and brother-in-law, Esteban Banda, both of Midland, Texas; one niece, Jazalyn Marie Banda of Midland; his girlfriend, Justina Garcia of Edinburg; one son, Aiden Eric Lopez of Edinburg; his maternal grandparents, Rafael A. and Maria Lopez, both of Edinburg; an uncle, Jose R. and Sandra Lopez; two aunts, Melissa and Mario Garcia and Melinda and Arnold Tijerina; and seven cousins, all of Edinburg; his paternal grandfather, Sixto H. Lopez of Sunnyside; four aunts, Mary Ellen and John Powers of Kennewick, Grace and Tom Cassidy of West Richland, Marti and John Villanueva of Grandview and Carmen and Danny Cavazos of Sunnyside; four uncles, Abel and Elva Lopez of West Richland, Gilbert and Emma Lopez, Gili and Maribel Lopez, Jessie and Missy Lopez, all of Midland, Texas; and 23 cousins who will forever carry his memory in their hearts.
He was preceded in death by his paternal grandmother, Carmen Marquez Lopez; and paternal great-grandparents, Maurilio and Maria Luz Marquez and Maria Ellena and Antonio Hernandez Lopez; and his maternal great-grandparents, Ernesto and Felicitas Lopez.
Memorial services will be held Friday, Oct. 26, 2007, at 1:45 p.m. at Blessed Sacrament Church in Grandview.
Gonzalez Family Funeral Home, LLC in Edinburg was in charge of arrangements.
More like this story