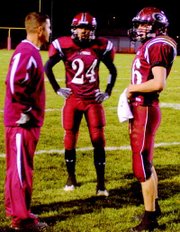 GRANDVIEW - The Prosser High School football team showed why it is among the best 2A squads in the state with a 79-7 win at Grandview this past Friday.
The Grandview squad trailed 35-0 after one quarter and 71-0 at halftime. The Greyhounds' lone score came early in the fourth quarter on a 30-yard strike from quarterback Matt Concienne to Marty Guillen.
Prosser answered with a touchdown to close out scoring.
"They came out fast and throttled us," Grandview Coach Dustin Lamb said of the Mustangs. "Their offense was unstoppable and moved the ball well. Their defense is as fast as any I've ever seen at the high school level."
Concienne completed 12-of-24 passes for 163 yards and a touchdown. Guillen caught four passes, including the touchdown strike, for 50 yards. Teammate Spencer Lewis grabbed two passes for 73 yards.
Lamb said the one-sided score allowed several of the younger Grandview players to see varsity action, including freshman Adam Morales. "He came in and did a good job for us," Lamb observed.
The coach noted that Grandview (3-4, 3-5) will put the Prosser game behind it and get ready for Ephrata this Friday.
"All we can do is put this one behind us and move forward. There is a lot of season left and Prosser has done this to nearly everyone they've faced."