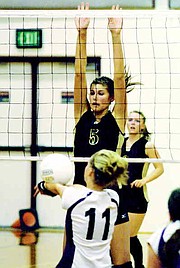 The Klickitat Vandals dug themselves out of a 2-0 hole last Friday night, rallying with three straight victories to defeat the Sunnyside Christian volleyball team.
The three games to two win avenged a 3-0 sweep that the Lady Knights posted against the Vandals in the Klickitat gym back in mid-September.
Despite sustaining the loss on their home floor last Friday, Coach Tammy Bangs' Lady Knights found several positives to glean from the match.
"The girls played a good match," Bangs said of her club, which won the opening two games by scores of 25-19 and 26-24. "There were a lot of good things happening on the court, and we fought hard.
"The win did not come our way, but I am pleased with the efforts of the girls," Bangs said.
Perhaps the biggest effort was turned in by senior Andrea Schutt. She was a dynamo at the net, totaling 21 kills with pinpoint, in-your-face spikes that Klickitat had no answer for. Schutt also skied high for a team high five blocks. In addition, Schutt was perfect from the service line, successfully putting all 14 of her serves into play. Also, she was credited with 16 perfect passes.
SCHS junior Melanie Van Wingerden also had a big night. She was 25-for-26 from the service line enroute to notching three ace serves, and soared at the net as well, posting an 11-kill, three-block effort.
Other outstanding individual numbers posted by the Lady Knights included junior Abby Bangs' 31 assists, senior Emma Newhouse's 14 perfect passes and three ace serves, and sophomore Joleen Van Wingerden's 18-for-18 effort from the service line.
Klickitat rallied in game three for a 27-25 win, then squared the match at two-all with a tightly contested 25-23 decision in game four. The Vandals, riding the momentum they established, proceeded to sock the match away with a 15-13 victory in the rubber game.
The come-from-behind win boosted Klickitat into a tie with the Lady Knights for the top spot in the 1B conference standings, as both clubs finished league play with identical 6-3 records.
Prior to the Saturday, Nov. 3, District tourney at Goldendale, both teams will get in a couple of non-league matches. Sunnyside Christian will travel to Mattawa tonight (Monday) to take on Wahluke, and will then close out the regular season at home this coming Thursday evening against Tri-Cities Prep.