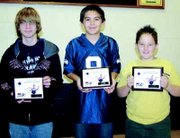 Four youngsters from Sunnyside, who traveled to Seattle this past April to compete in the Washington State Bowling Championship Tournament, were officially recognized for their efforts during junior league play this past Saturday.
Doubles duo Nickolas Ramirez and Tyler Colley were each recognized for their score of 1,346, which netted them fourth place honors in the F division of the state bowling tournament. Ramirez has been bowling at Valley Lanes for approximately four years and his partner, Colley, has been a member of the youth league in Sunnyside for approximately three years, according to Valley Lanes co-owner Sue Rice.
She said the state championship is open to youngsters of all ages, who are willing to make the trip. They compete amongst hundreds of other youth from across Washington state and the divisions are divided based by league averages.
A bowler since the age of five, Sunnyside's Cameron Stinnet earned 12th place honors in singles play with a score of 670 in the E division.
Fellow Sunnyside bowler Lesli Schilperoort placed just behind Stinnet, earning 13th place honors in the E division with a 666.
Schilperoort has been bowling in the league just more than a year.
Each of the youngsters received a plaque commemorating their achievements in Seattle.