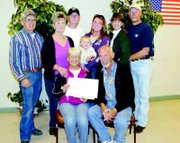 When Kay Clampitt, the cancer chairman at the Sunnyside Fraternal Order of Eagles found out her fellow Eagle sister and friend had cancer, she knew what she had to do.
"When I found out Susie Moore had cancer I planned a cancer benefit in her honor," Clampitt said. "Not only because it's my job, she is also my long time friend and a respected member of this community."
Clampitt says she has known Moore for approximately 40 years.
Starting Sept. 29, Clampitt has organized a car wash, live auction, potato feed, 50/50 raffle, bake sale, yard sale, breakfast feed and a spaghetti feed, all of which were held in a three-day span.
She said she was amazed by the generosity of the community.
"There were people who just drove through the parking lot that didn't know what was going on," she said. "All they knew was there was a benefit. They gave $20 or $30. I was flabbergasted."
The total raised for Moore was $7,331 and she was presented this money last night at the Eagles lodge in Sunnyside.
Moore was speechless.
"It's overwhelming, I don't know what to say," she said.
Her husband Bob was just as touched.
"I'm just so overwhelmed," he added. "I'm proud to be a part of this community, to have this kind of support. It's very humbling. Sue was always the first to volunteer, she's touched a lot of lives. She loves the people and they showed their love back."
Clampitt refused to take all the credit for the benefit. She insisted none of this would have been possible without the support of friends and family.
She thanked her Eagle brothers and sisters, Doug Herman, Carol Hyde, Jenene Munson, Beverly Bosteder, Stella Tyler, Matt Wagner Jr., Ed Williams, Cathy Woods and Betty Johns for their willingness to give their time and continuing support.
She also thanked her family, Darrell Clampitt, Dave and Jen Clampitt, Bob Fox, Deadean Fox, Dusty Fox, Mandy Fox and Nikki Fox, for all they did and the support they provided in raising the money for Moore.
.