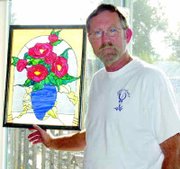 GRANDVIEW - Approximately 10 years ago Pastor Gary Rohde of Immanuel Lutheran Church in Grandview discovered the love of making stained glass pieces.
He got into the hobby after he created windows for his church. "I enjoyed making the church windows. I had acquired the equipment and as a result continued to design different pieces," Rohde stated.
In the 10 years since having discovered his new hobby, Rohde has busied himself creating works for friends, family members and several members of his church.
"Mostly I create gifts," he said.
Recently, the wife of his friend, Mike Carpenter, asked Rohde to create a piece for the home the Carpenters are building.
The stained glass piece, given Carpenter is an avid Washington State Cougar fan, was a three-foot by three-foot WSU logo. Rohde had to obtain permission from the university to create the piece because of copyright laws. But, he felt it was well worth the efforts. "I even obtained a letter for Mike certifying that permission was granted," Rohde said.
The stained glass artwork required approximately two months of Rohde's time. "But, it was fun," he commented, stating he used an overhead projector to create two identical patterns for the piece.
He cut up one of the patterns for the purpose of cutting his glass pieces. After cutting each piece, similar to a puzzle, the edges had to be ground down to ensure a good fit once they were "foiled."
Rohde said some people create their own glass, however he uses pre-made pieces and cuts them to his specifications.
After creating each piece of glass, Rohde lays them on a template, or the second pattern, ensuring they match the design.
He then sauders each piece together.
The WSU piece Rohde created impressed his friend. "I was genuinely in awe. It's not often my wife can surprise me. But, Gary did a phenomenal job on the piece," said Carpenter.
Carpenter said he and his wife are going to display the art on the exterior of their new home. "We are going to illuminate it with electric light so everyone can see it when they arrive at the house," he said.
Carpenter said the early housewarming gift will forever be valued "...but most of all my friendship with Gary is valued."
He added, "The twist is that Gary bleeds purple deep down. So, seeing him with a piece of Cougar art was fun...Gary even wore purple for the occasion."
.