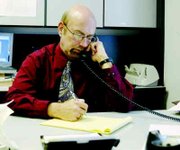 For more than 20 years Ricki Tebaldi had been the director at Lower Valley Crisis & Support Services in Sunnyside. After her passing last August, lead counselor Sara Herrera took over as interim director.
Although doing a good job, the board realized it would be easier to bring someone in to fill her role as interim director than it would be for them to find someone to fill Herrera's role as a therapist.
For this reason the board brought in Ryon Hood, a man who has had a long relationship with the crisis center.
"I first worked with Ricki back in the late 80s," Hood recalled. "I helped her design some programs and secure funding for them. If it wasn't for Ricki and the support of the community there wouldn't be these programs here."
Hood came aboard as the new interim director this past Monday and will work an initial period of three months at the helm of Lower Valley Crisis and Support Services.
With him he brings more than 20 years of experience working with 271 different programs in Washington. He most recently worked for Yakima County, developing programs and finding funding. He helped secure funding for Yakima's drug court for adults and juveniles.
"In 20-plus years there's probably not a program I haven't worked on," he said of his non-profit work.
After his initial three-month period Hood will sit down with the board and look where to go from there. This is his first time directing a crisis center.
"My first responsibility is to make sure the services in this agency continue," he said. "It's a critical component in this valley."
Hood said there were 5,000 cases of domestic violence last year in Yakima County and more than 50 percent of them happened in the Lower Valley.
"This agency so far this year has served almost 600 cases of domestic violence and more than 200 cases of sexual assault," he added.
Noting that social services have decreased by 14 percent over the last three years, Hood said he wants to increase the general resources available at the center. He will venture into the community to meet people and let them know what is provided at the center.
"Over the years the community's generosity has been magnificent," Hood added.
This Friday, Oct. 26, a yard sale will be held in the parking lot at Lower Valley Crisis & Support Services, from 8 a.m. to 2 p.m. All proceeds raised will go to meeting the needs of clients.
Hood came down last Thursday to meet and get acquainted with the staff.
"So far, I'm pleased with the expertise of the staff and their dedication," he said.
Hood also wants to get the message out to the community that if they ever need assistance from Lower Valley Crisis & Support Services, they shouldn't hesitate.
"We're here and we're available," he said.