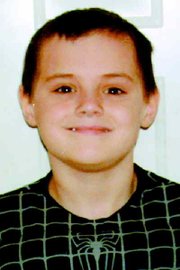 Efforts to assist the family of 7-year-old Chase Morris in traveling to visit the cancer-stricken little boy receiving treatment in California are underway.
Sunnyside's VFW Ladies Auxiliary will be hosting a benefit dinner Friday, Oct. 26, to help raise funds for the family.
Chase was diagnosed with osteosarcoma at the age of three. He has since experienced many recurring surgeries to remove tumors from his arm and lungs.
His grandparents are Vickie and Dennis Carter of Sunnyside, and he is the son of Christopher Morris and Amy Harris.
Recently, the family found out that Chase's cancer had metastasized to his ribs and right lung. Children's Hospital in Seattle told the family that chemotherapy and radiation would not be effective in treating the cancer.
Chase's family found a hospital in California willing to use an experimental treatment on the young boy. He traveled to California in September with his mother.
The hospital has scheduled a scan for Friday, Nov. 30, to assess whether or not the treatment is having any effect on Chase, and his family is seeking to travel to see him in the meantime.
The Sunnyside VFW Ladies Auxiliary's benefit dinner for Chase and his family will begin at 6 p.m. In addition to the fare, a silent auction will take place beginning at 5:30 p.m.
No tickets are required for the event, however the cost is $10 per plate. Also, it is first come, first serve "until the food runs out."
The dinner and silent auction will be held at the Sunnyside VFW Post on North Street.
The ladies will accept any monetary donations in addition to the proceeds of the auction and dinner.
For more information or donation pick-ups, contact Sharon Hollman at 837-4554, Nellice Johnson at 839-7053, Julia Hart at 837-3893 or Vicki Carter at 837-8641.