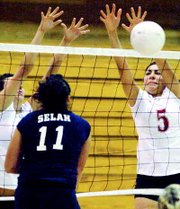 GRANDVIEW - In a rematch of last year's 2A State tournament title tilt, the Grandview High School volleyball team knocked off top ranked Selah last night by scores of 25-20, 25-16, 25-16.
The win concluded Grandview's regular season with a record of 13-0 in league and 27-2 overall including tourney matches.
Grandview is ranked number two in the state and lost the title match to the Vikings last year.
But the Lady Greyhounds stunned Selah last night with a switch in the lineup. It marked the first time this season that Coach John LaFever tinkered with Grandview's starting roster.
"We wanted more balance between offense and defense," LaFever said of switching Kealey Johnston to the back row and Sydney Mottice to the front. "It gave us something we hadn't seen before and it worked."
Oh, it worked all right, as Grandview pulled off the sweep and ensured that its seniors continued a home unbeaten streak that has lasted four years now.
It's probably the toughest sweep the Lady Greyhounds have encountered to date, though, as no Grandview player was in double digits for service points.
"We had to battle for every point," LaFever noted. "Selah's a really strong team with strong hitters. There were very few long service point streaks. You had to earn all your points."
Selah's pressure on the Grandview back line was evident, considering that Johnston and Katie Veloz combined for nearly 40 defensive digs in the three-game match.
Johnston also recorded eight kills and nine service points. "She really stepped it up," LaFever said.
Grandview's net powerhouse, Kinzi Poteet, was essentially triple-teamed all night, but still managed a team-high 13 kills to go with seven blocks.
Raissa Licano recorded a team high eight blocks for the Lady Greyhounds to go with four kills. Vanessa Medina guided the Grandview attack with 28 assists.
After Grandview took the first two games by fairly comfortable margins, the Vikings battled and kept things close in the third game.
"It was real close," LaFever said of the match finale. "Our passing did a good job and we pulled away. We settled down."
Knocking off number one and the defending state champs is a big deal, but LaFever kept it in perspective, ever mindful that the playoffs still await.
"It's pretty good, but it's just a match in the record books," he said of last night's win. He also noted that the Grandview JV defeated Selah last night for the first time.
Looking ahead, though, LaFever added, "I'm sure we're going to look forward to playing them again (in the postseason)."
He added, "First we need to go to Districts and qualify for State."
Grandview begins what is likely a march back to the State tourney when it hosts Othello next Tuesday at 6 p.m. in the first round of the District playoffs.