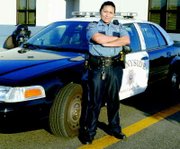 Sunnyside Police Officer Melissa Rodriguez admits she was a little leery when she was appointed as the new GREAT officer for the Sunnyside School District.
"It's kind of difficult to see a patrol officer in a classroom of students," she said. "We're not teachers."
Thanks to a $125,000 grant from the Gang Resistance Education and Training (GREAT) Program administered by the United States Department of Justice, Rodriguez is teaching the program to elementary and middle school students in Sunnyside.
The GREAT program is a school based, law enforcement officer instructed classroom curriculum with prevention as its primary objective. The program is intended as an immunization against delinquency, youth violence and gang membership.
The lessons focus on providing life skills to students to help them avoid using delinquent behavior and violence to solve problems. The GREAT Program offers a continuum of components for students and their families.
Rodriguez, a patrol officer since 2000, started teaching the first week of September.
"Once I got there, the class opened up and saw us as people," Rodriguez said.
She said she instructs the students on what to do when they get angry, to recognize what happens to their bodies when they get angry so they can identify their emotions, and how to deal with it.
Rodriguez teaches third, fourth and sixth graders in Sunnyside. Two weeks of GREAT training has prepared her for what to do. In her training, Rodriguez said each lesson was explained to the GREAT officers and books were supplied.
"We talk about setting goals, bullying, active listening, empathy, verbal and non-verbal communication and go through scenarios to teach the students how to deal with each situation.
A scenario recently broached during a lesson dealt with a woman who has had her house broken into three times and her television stolen. Then a situation is put forward where a young person wants to buy a TV for their parents but don't have enough money for a new one. If they go to a house where stolen items are sold, what should they do?
She said some students say the police should be called, but some students say if the police are called they will be identified as snitches and beat up.
"I enjoy having these discussions with them," she said. "It's good to see, it means they're thinking. The students usually answer their own questions."
She said the students talk about situations they come across and ask what they should do. She said the students do a good job of listening.
"We show them their future and tell them how to get there," she added.
She said her goal is to get the students to think before they find themselves in a situation, so they can have a plan if it happens.
"I'm trying to get them to think outside the box," she said. "We want them to think on their own."
Rodriguez said there are some students she teaches that are gang members and she tries to find out why. She's not there to harass them, she said, and the students' gang affiliations aren't discussed that much.
If anything, she said, it's the students that are in gangs that bring the subject up.
"We talk about it," she said.
Rodriguez said through this program she is trying to help the kids, adding most police officers are parents themselves.
It's been an experience she's enjoyed very much.
"It's not just about gangs," she said. "It's goal setting and problem solving. If I can get one kid out of it, it's worth it."