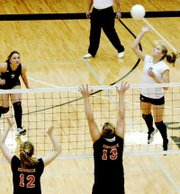 KENNEWICK - Playing in their first 3A Columbia Basin League playoff game Thursday night, the Sunnyside girls volleyball team came from behind to beat the Kennewick Lions in five games 13-25, 15-25, 25-23, 25-21, 15-12 to advance to the Regional tournament.
After the first game, Sunnyside Coach Mhike Dumo thought to himself, "here we go again."
"We again started out slow," he said. "We didn't do the basics. I thought maybe they were nervous."
After the 25-13 shellacking in the first game, the second game was more of the same.
Dumo said his team did a lot of standing around on defense and didn't rotate like they were supposed to do. The offense was working well and Sunnyside's setter was all over the court trying to set up the pass.
One bright spot in the first two games, Dumo said, was Sunnyside's service game.
"Serves was one of the areas where we did good things," he said. "It just wasn't enough to carry us over for the win."
Down 2-0 and on the verge of ending their season, Dumo told his team to get back to the basics. He told them to move on defense, rotate and find the hitters.
"I told them they knew what Kennewick was trying to do but they had to get behind it on defense," he said. "I told them this was their night, especially the seniors."
The Lady Grizzlies responded by falling behind 6-0.
"I changed my approach," Dumo recalled. "I encouraged them more, showed them what they needed to do."
He said his players listened to him and things started to click. The focus wasn't about winning the match anymore, it was about winning the third game.
Sunnyside slowly came back in game three, finally edging the Lions 25-23.
In the fourth game Sunnyside started out better, gaining a lead but giving it back up. The whole game was like that until Sunnyside pulled away for good, winning 25-21.
A key factor in game four, according to Dumo, was the play of Jordyne Jaquish. Dumo said she lined up against one of Kennewick's big hitters and came up with some key blocks.
In the fifth game the Lions took an early lead and reached 10 points first.
"We were playing catch up," Dumo said.
He said his team was working hard and finally caught up with the Lions at 12 and then went ahead 13-12, when the Kennewick coach called a timeout.
"I asked them what they wanted three times," Dumo said. "They answered each time louder and louder."
Up 13-12, Sunnyside's Alexis Ramos served the last two points for the win.
"A lot of girls picked up their game," Dumo said, pointing out Ramos and her younger sister Loni. "We came together in crunch time and played well as a team."
Claire Schilperoort led the Grizzlies with 17 kills and 21 digs. Jaquish had 10 kills, one dig and three blocks. Molly Dolan finished with 10 kills and two digs. Melissa Stamschror had four kills, five digs and 42 assists. Alexis Ramos had three kills and 34 digs. Her younger sister, Loni Ramos, had one ace, one kill and 17 digs. Kasi Guillen finished with two aces, one kill and 35 digs.
The win advances the Lady Grizzlies to Regionals in Spokane on Nov 2-3. On Saturday, Oct. 27, Sunnyside will play Kamiakin at 10 a.m. at Kamiakin High School. The match is purely for seeding in the Regional tournament. If Sunnyside beats the Braves, they will play the winner of the Hanford/Southridge game later on Saturday. If they lose to the Braves, the Lady Grizzlies will play the loser of the Hanford/Southridge game.