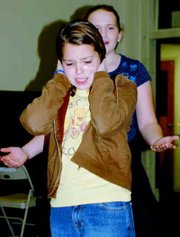 PROSSER - Valley Theater Company is gearing up for its Christmas production, titled "Yes, Virginia, There is a Santa Clause" by Pat Cook, set to take place in early December.
According to the play's director, Julie Trumble, the play is geared for children.
Trumble said the play is about a little girl who's bound and determined to prove there is a Santa Claus. After asking her mother, father, teacher and priest, young Virginia finally writes a letter to the editor of the New York Sun for the answer.
The play is set in 1897 New York, Trumble said.
The play stars McKenna Hoffard as Virginia, Rudy Slupsky as the Chief, Tim Whiteman as Frank, Jim and Amy Milne as Papa and Mama, receptively, Justine Boone as Charly, Janessa Hoffard as Missy, Elizabeth Whiteman as Mrs. Madison, Patricia Haurer as Mrs. Marbury, Karen Santos as Mrs. Birch and Rick James as Father Michael.
Brenda Keller is the co-director and Kathy Jones is the producer.
Performance dates are Friday and Saturday, Dec. 7 and 8, at 7:30 p.m. and Sunday, Dec. 9, at 2 p.m.
Performances will also take place on Friday and Saturday, Dec. 14 and 15, at 7:30 p.m., as well as a matinee performance at 2 p.m. on Dec. 15.
All performances will be at the Princess Theater in Prosser. Admission cost is $8 for students and seniors and $10 for adults.