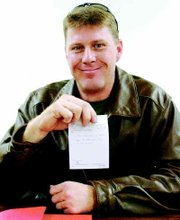 Off work for just over a year to recover from brain surgery, former Sunnyside Police Officer Shane Mortenson has been cleared to resume his career.
"Being a police officer hasn't left me," Mortenson told the Daily Sun News.
During 11 years as an officer on the Sunnyside police force, Mortenson had been a traffic cop, a patrol officer and a detective.
"All my life I've been in public service," he said. "I served in the military and I always helped my family. When I became a police officer I found my niche."
Mortenson said he liked being a police officer because he was able to serve everyone. He liked the entire gamut of being an officer.
"It's in me and I can't get rid of it. I don't want to," he said.
Mortenson found out he had a brain tumor in 2005 after he had a seizure. After surgery in October 2005 he was off from work until early 2006, when he went back to the police department and performed light duty functions.
He resigned on Aug. 31, 2006 after being told the police force would no longer be able to keep him on.
Mortenson then begin studying at Grandview's Church of the Nazarene to become a pastor. He also assisted Pastor Lloyd Wicker from the Yakima Valley Community Chaplaincy, a non-profit organization that provides help in crisis situations for victims of tragedy. Mortenson is assigned to the Sunnyside Police Department.
During his year off from the police force, Mortenson's rehab has been simple. He just needed time to heal.
"God opened the door for me to be a police officer and I'm back," he said.
He's put in his resume with the Granger Police Department and has had a meeting with Sunnyside Police Chief Ed Radder, letting him know he wants to go back to work.
"I really want to come back to work in Sunnyside," he added. "This is where it all started for me."
Mortenson said he believes he will be offered a position soon with one of the departments and is thrilled.
"I can't wait to get back to work," he said. "I'm just so excited it's hard to explain."