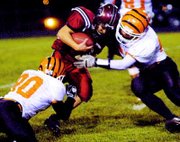 GRANDVIEW - The Grandview High School football team scored the first and last touchdowns in a home CWAC South game with Ephrata Friday, but the visiting Tigers reeled off 47 unanswered points in Grandview's 47-13 loss.
The Greyhounds opened scoring with a touchdown pass from Matt Concienne to Marty Guillen. The point after kick try was no good.
Ephrata answered with two touchdowns to take a 14-6 lead.
Late in the first quarter it looked like Grandview had an equalizer when Concienne faked the hand-off to Storm Shea, then scampered 40 yards down the sideline for a touchdown.
The faked worked so well, though, that one of the referees blew the whistle when he thought Shea was tackled with the ball. It marked the second week in a row that a Grandview play call was interrupted by an inadvertent whistle.
"It was probably the worst call I've seen as a coach in the last eight years," Lamb observed. "That was a pretty crucial moment."
Lamb said he considered filing a formal protest, but with the outcome so one-sided he decided to let the issue rest.
"We played with them (the Tigers) early, but the defense was unable to contain their passing game most of the night. Their offense moved the ball well," said Lamb. "Offensively we had our chances, but we were unable to make plays at crucial times throughout the game."
The coach noted, for example, that Grandview receivers dropped two touchdown passes.
Ephrata ran up a 28-6 lead by halftime and expanded it to 47-6 in the third quarter. Grandview's last score came in the fourth on a touchdown reception by Spencer Lewis.
Concienne completed 16-of-30 passes for 250 yards and two touchdowns. Guillen had four catches for 99 yards and one touchdown, while Lewis caught eight passes for 95 yards and a touchdown.
Despite the difficulty in stopping the Tiger attack, Grandview's Isaac Alaniz and Mando Madrigal provided a ray of hope as each recovered fumbles.
Grandview (3-5, 3-6) closes its season with a contest at Othello this coming Thursday.
"We lost Marty Guillen for the year with a shoulder injury, so we face a very difficult task taking on a physical Othello team," Lamb observed. "We'll just try to play hard for four quarters."