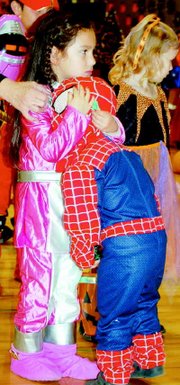 A change in location didn't hamper attendance at the 66th annual Outlook Carnival, held this past Saturday at Sierra Vista Middle School in Sunnyside.
The carnival, made possible by Outlook's Booster Club, had to be moved to Sunnyside because renovations at Outlook Elementary School are not yet completed following a fire that took place last winter.
Carnival-goers in costume bounced from game to game, collecting treats along the way.
The carnival had a little bit of everything, including raffle prizes (which will benefit Outlook Elementary's Physical Education Department), bingo, a bake sale and dinner for those too tired to continue without a warm meal.
According to Booster Club member Chantile Hutchinson, proceeds from the carnival, with the exception of the raffle, will go towards the school. In the past, funds have been used to buy a swing-set, and reader board letters.
All told, more than $4,000 was raised.