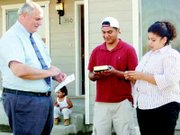 GRANGER - Yakima Valley Partners Habitat for Humanity dedicated its 118th home at 310 East Third Street in Granger this past Sunday.
A group gathered at the newly built home of Jose and Maricela Garcia and their two young sons, Roberto, 3, and Rafael, 1-1/2.
Mike Nixon, Executive Director of Yakima Valley Partners Habitat for Humanity, said the lot the home was built on was purchased through grant funds from Yakima County. "The money comes from the county's 20/60 money that goes toward low income housing in the county," he explained.
"We don't use government money to build the house, but anything up to the wall is fair game," he said. "With the water and sewer connections, that's a pretty good chunk (of money)."
Nixon said the three-bedroom home is a traditional starter home and is roughly about 1,100 square feet in size.
Maricela Garcia, now officially a first time homeowner, expressed her gratitude to the organization and said, "It's going to be different, a big responsibility."
Following introductions and opening prayers, the Garcia family was given its first official housewarming gift, a Bible from Yakima Valley Partners Habitat for Humanity, as well as a symbolic key chain. Father Francisco Higuera then offered a closing prayer and went room to room in the newly built house, offering a house blessing.