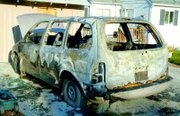 Three Sunnyside area homes were fire-bombed early this morning.
Local police and county deputies say Molotov cocktails were used in the likely targeting of the residences of opposing gang members.
Sunnyside police were called to the 800 block of Taylor Avenue in Sunnyside at 1:07 a.m. on Tuesday. Sunnyside Deputy Chief Phil Schenck said a vehicle was destroyed when it caught fire after being bombed. The house, occupied by a 37-year-old woman and six juveniles, also caught fire but damage was minimal.
"This is an identified gang house," Schenck said.
A short time later, Sunnyside police were called to the 300 block of South Ninth Street. This house, also an identified gang house, suffered quite a bit more damage than the home on Taylor Avenue. The home was unoccupied at the time of the bombing.
Schenck said the vehicle police believe was used in the fire-bombings has been recovered. The Ford Explorer was stolen in Mabton.
Sunnyside police have identified suspects and are looking for an unspecified number of known gang members.
The sheriff's office also is investigating a fire that is believed to have been intentially set at a home in the 100 block of First Street in Outlook that occured at 1:30 a.m. on Tuesday. This is believed to be another gang house.
Later in the morning, at 3:30 a.m., a sheriff's deputy located a suspicious vehicle in Sunnyside that had apparently just been abandoned by the occupants of another vehicle that deputies attempted to stop.
According to a report filed by Sergeant Mike Russell of the sheriff's department, the vehicle was stopped while trying to leave the area. Upon trying to contact the occupants of the car, the driver sped off and a pursuit was initiated.
The car eventually went off the road and a 15- and a 17-year-old were taken into custody. Both are being held in the Yakima County Juvenile Detention Facility.
Sheriff officials believe the two boys are involved in the arsons. Schenck said it is too early in the investigation yet to tell and Sunnyside police have not tied the two juveniles to the cases in Sunnyside.
The Sunnyside police and Yakima County Sheriff's office are continuing the investigation.
In other news, Sunnyside police have investigated six burglaries and two thefts since Monday morning.
Also since Monday, police have dealt with one controlled substance problem, one case of disorderly conduct, one report of domestic violence, one forgery case, one report of fraud, two harassment calls, one 9-1-1 hang up call, one runaway juvenile, three suspicious people or situations, four traffic violations and two reports of vandalism.
Police also served four arrest warrants, assisted different agencies three times, provided one citizen with assistance, provided one extra patrol, recovered four stolen vehicles, took one report of found property, did one welfare check and fielded one informational call.