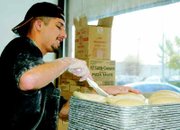 Pizza lovers rejoice! Little Caesars has just opened its doors for business in Sunnyside.
The take-out only pizzeria officially opened its doors on Oct. 13.
According to co-owner Rob Murphy, who owns the business along with Rusty Barton, Little Caesars initially hired 35 employees and has since hired 15 more.
Murphy said that he and his partner have other Little Caesars locations in Tri-Cities and Yakima and that inquiries in those businesses led the partners to consider setting up shop in Sunnyside.
Murphy said that he and Barton researched it and felt like "it'd be a good community" to do business in.
The pizzeria is home to the $5 "Hot-N-Ready" pizza, which allows patrons to come in and purchase an already cooked pizza. Choices include pepperoni, sausage, cheese and Hawaiian pizzas. This could change in the future, said Murphy. "It takes time for us to determine what sells in a particular market and we'll adjust it accordingly."
Those wishing to order a custom pizza pay a price of $6, plus an additional charge for selected toppings.
Murphy said that Little Caesars plans to get involved in the community. "Getting involved works well in a smaller community," he added.
Little Caesars, which is located next to Fiesta Foods on Yakima Valley Highway, is open Sundays through Thursdays from 10:30 a.m. to 10 p.m. and is open until 11 p.m. on Fridays and Saturdays.
For more information, call 837-7714.