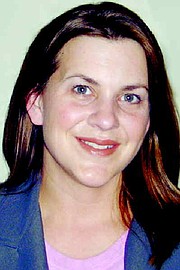 The inspirational true-life story of longtime Lower Valley resident and certified life coach Amy Zook has been selected for inclusion in the recently published book, Wake Up...Live the Life You Love: A Search for Purpose.
This book is an inside look at successful people who share their stories of remarkable inner resources. It is the latest installment in the best-selling inspirational Wake Up...Live the Life You Love series.
Zook is one of several co-authors to write one of the book's chapters. Top professionals from around the world, including such self-help luminaries as Anthony Robbins, Brian Tracy and Wayne Dyer contributed personal accounts of triumph over physical, emotional or spiritual adversity.
"Many of them had to overcome challenges to find their own version of success, and those stories are heartening and enlightening," said publisher Lee Beard.
Zook, a Sunnyside resident, said the book is a collection of essays on finding life's purpose.
"This is my first publication," she said. "I am truly honored to be in the company of these outstanding individuals," Zook said. "I hope my story helps to inspire others to take a new look at how they view themselves and to look at the concept of 'personal power' in a fresh new way."
Based in Sunnyside, Zook has been a certified life coach and family support counselor for more than five years. She overcame numerous health problems and other adverse circumstances at a relatively young age by taking a holistic approach to her healing.
"I was sick for quite some time," she explained. "Because I couldn't afford health care I went to an alternative route."
When she got better she thought she could help other people who might be going through what she did.
Zook uses this experience to assist her clients in block removal, goal setting and achievement for optimum health, wealth and meaningful relationships. Her greatest desire is to teach others to coach themselves. Zook works with clients from around the globe via telephone and email, and locally in her office.
Zook prefers to communicate through her writing.
"It's probably the medium that suits me best," she said.
According to Robert Valentine, publications director of the Wake Up series, "If there is a single lesson in this unusual collection, it is that the power to dispel fear, seize opportunity, and overcome adversity is waiting within each of us." He notes, "Each may take a different road, but somewhere in this collection of personal triumphs is an example that will resonate with you."