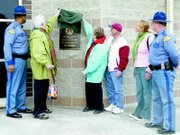 GRANDVIEW - Surrounded by Ray Hawn's family and friends, dignitaries and troopers from the Washington State Patrol, the newest weigh station in Washington was dedicated in Hawn's memory yesterday.
It was a cold, winter day 17 years ago when Trooper Hawn stopped alongside Yakima Valley Highway to help a motorist who had run out of gas near Grandview. He was struck by a passing vehicle about a mile from where the newly constructed weigh station is.
"Today we dedicate this building in memory of a great man," WSP Chief John Batiste said.
Batiste said he had the pleasure of knowing Hawn when both were young men. Playing basketball on the same team, Batiste said it was great to have Hawn under the basket.
"He was like a bull in a china factory," Batiste recalled.
It was the men of the Sunnyside/Grandview attachment that first came up with the idea of naming the new weigh station after Hawn and giving the building his badge number.
Detachment supervisor Sgt. Tom Foster said it was a collective idea with his prompting.
"It was about a year ago when the building was just a shell," Foster explained. "It was pointed out to us that Ray was killed close by. I thought, wouldn't it be neat to name the building 741."
Foster said everybody thought it was a great idea and after a letter was sent to WSP Chief Batiste, it was a go. Foster even designed the plaque dedicated yesterday.
"We were real excited to do it," Foster said of his and his men's efforts.
"Now anytime officers step away from the office they will be signing out of 741, Ray's number," Batiste said.
Hawn's twin sister, Jan Verhey, said she learned of the dedication in August when the building opened.
"This was as overwhelming as the funeral," she said. "To have so many people remember him so vividly. It's not a faded memory after 18 years. That in itself is overwhelming."
Verhey said she remembered when Hawn was accepted to the WSP how much he looked forward to it.
"He truly loved the work that he did," she said. "He enjoyed it. It suited him and he suited it."
To have Hawn's name on the new station is special to his family.
"It was wonderful," Verhey said of the dedication. "It's truly an honor."