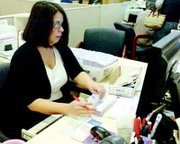 YAKIMA - Hoping to give the public a look into how the county auditor's office conducts an election, an election expo was held in Yakima on Tuesday.
County auditors have put a great deal of effort and thought into ensuring Yakima County's election procedures are trustworthy and secure.
Diana Soules, chief deputy auditor for Yakima County, said each morning mailed-in ballots are picked up and then scanned into a computer.
Two county election officials will pick up ballots every day until two days after the election.
When the ballots are scanned officials know who has sent in their ballot and they are given credit. The number of ballots received that day are counted electronically and then counted by hand.
Then the ballots are opened and an official checks the signature on the return envelope against the signature on the voter's registration file. If the signature does not match, a phone call is made to the individual and a letter sent out explaining the problem. The voter is given time to update the signature.
If the signature does match, the ballots are sorted by precinct and then usually stored until the ballots can be brought down to the processing boards.
The ballots are secured in cabinets that have security locks on them. Two people must be present to open a cabinet and a log is kept on who accesses the cabinet.
When the ballot is ready to be processed, a Republican and a Democrat take the ballots to the bi-partisan processing boards. There the ballot is removed from the security envelope.
"Any identification between the ballot and the voter is broken right there," Corky Mattingly, Yakima County Auditor, said.
The ballots are then manually inspected, where any rips or smudges are looked for.
After the ballots have been scrutinized, a member of the auditor's office visually inspects the ballots.
"We double check the ballots to make sure they are readable by the machines," Mattingly said.
The ballots are then bundled according to precinct and then double checked one more time. After passing this inspection, the ballots are scanned onto flash cards and then secured until 8 p.m. on election night.
A ballot is never rejected unless there is a signature on the ballot.
A single vote can be rejected, Mattingly said, if a voter marks two candidates running against each other. This is called an over-vote.
She said she has seen some interesting ballots come in throughout the years.
"We've had substances on them we couldn't identify," she said.
She also said sometimes people like to write nasty notes to the auditor's office on the ballots. Some will even cross out all the Spanish language on the ballots. Still, each one is counted.
Ballots must be kept for a minimum of 22 months for all federal elections and 60 days for all others.