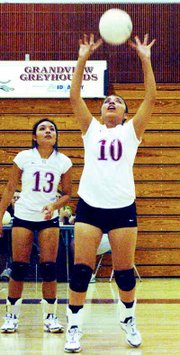 GRANDVIEW - As expected, the Grandview High School girls volleyball team advanced in the CWAC District tourney last night with a 3-0 win over visiting Othello.
The Lady Greyhounds dominated the home court in the first two games with 25-10 and 25-8 victories.
"We played pretty well," noted Coach John LaFever.
Grandview again received a boost from LaFever's late-season line-up switch in moving Kealey Johnston to the back row for defensive purposes and swapping her with Sydney Mottice, who moved up to the front.
"Kealey does more of the passing and digging," LaFever said. "She's our best defensive specialist." The switch, he added, is "fairly permanent."
The visiting Huskies made life interesting in the third game, a close battle that saw Othello trail just 22-20.
"Othello was playing pretty good and we kind of relaxed a little bit," LaFever said of the match finale. "We just tried to refocus and get ready for the next play."
Johnston was more than ready for the next play, swinging the game and match Grandview's way for good with a kill to make it 23-20 and return service to the Lady Greyhounds.
It just happened to be Johnston's turn in the Grandview serving rotation, and she put an exclamation mark on the win by serving two consecutive aces to close out Grandview's 25-20 win.
Johnston had 17 service points for the match, including three aces. She also shared team honors with Katie Veloz, as both recorded 14 digs.
Kinzi Poteet led Grandview's net attack with 11 kills and three blocks. Johnston and teammate Raissa Licano collected seven and six kills, respectively. Mottice had three blocks, and Grandview's Vanessa Medina dished out 30 assists to pace the attack.
The Lady Greyhounds, 28-2 overall including tournament matches, advance to play Ellensburg at noon this Saturday in Selah.
A win over Ellensburg in the District semi-final match will punch Grandview's ticket to the State 2A tourney and secure a berth in the CWAC finals at 3 p.m. Saturday at Selah.
The CWAC sends three teams to State. Last year's contingent (Selah, Grandview and Ellensburg) all earned State trophies, with Selah and Grandview squaring off in the championship match.
Odds are good that Grandview and Selah will meet again in this Saturday's District finals.
But LaFever's not looking ahead.
"We want to win our next match," he said of Ellensburg. "That's our focus."