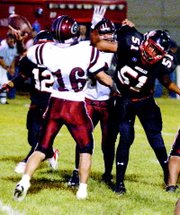 For 48 minutes last Friday night the Sunnyside Grizzlies football team beat up on the Grandview Greyhounds, earning a 35-13 home victory to open their season.
Led by running back Danny Alvarez and quarterback Adrian Cantu, the Grizzlies racked up 509 yards of total offense and led the entire game.
"Grandview came out in a 3-5 stacked defense, something they've never shown before," Sunnyside Coach Mark Marro said. "They tried to take away the sweep."
So Sunnyside (1-0) turned to the inside and starting running traps, allowing Alvarez to rush for 189 yards on 23 carries, including a 51-yard touchdown run in the third quarter. He also caught four passes for 63 yards.
"Danny did real well carrying the ball," Marro said. "We were able to run inside on them."
Marro also credited the offensive line with great blocking and hard work that enabled Alvarez to run wild on the Greyhound defense.
Cantu also played an important part in the game, completing better than 50 percent (13-of-24) of his pass attempts for 183 yards and three touchdowns. The speedy quarterback also ran for 27 yards on six carries and ran for one touchdown.
"Cantu threw the ball well," Marro added.
Sunnyside took a 14-0 lead into halftime scoring once each in the first two quarters.
Sunnyside scored with 5:50 left in the first quarter on a nine-yard Cantu pass to Nathan Cornelius. Cantu later hooked up with Joseph Villanueva on another nine-yard pass when time expired to end the second quarter.
Despite the loss, Grandview (0-1) had some bright spots in its contest against rival Sunnyside. Grandview Coach Dustin Lamb singled out Jo Jo Garza on the defensive side of the ball, noting he blitzed the line for a sack on Cantu and was able to hurry several throws.
Isaac Alaniz and Eric Charvet also received high marks from Lamb.
Despite the potential for opening night jitters, Grandview kept its poise and was whistled for just one penalty.
"We showed a lot of discipline," said Lamb.
Penalties were something that darkened the Grizzlies night. Sunnyside was flagged 15 times for a total of 151 yards.
"Grandview does a good job with the hard count," Marro said.
Sunnyside also fumbled the ball four times, losing the rock twice.
Still, the Grizzly defense was solid, shutting down the Greyhound running game and limiting Grandview to minus eight yards. Grandview quarterback Matt Concienne threw for 167 yards and completed 11 passes out of 23 attempts. He also threw for two touchdowns.
Marro pointed out the defensive play of Sunnyside's Jordan James and Andrew Rios, who each had three solo tackles. Adam Ramos had several first hits for the Grizzlies and Cornelius was able to pick off Concienne. Both Ramos and Diego Burgueno led Sunnyside in assists.
Lamb also had praise for the Greyhounds' wing offense.
"Our pass offense looked explosive at times," Lamb observed.
Despite the signs of life, Grandview has its work cut out for it as it prepares for this Friday's CWAC South opener against Toppenish.
"We have a lot of work to do and some of our guys need to get that first game on varsity stuff our of their minds now and regroup," says Lamb. "We showed some good effort at times, but we need to play twice as physical if we want to compete in the CWAC."
Marro said his staff expected a win last Friday, noting Grandview graduated a lot of its players last year and are a very young team. The Grizzlies will continue non-league play next Friday when they travel to play Wenatchee
"A couple of things went our way but we have to get better," Marro said of his team's performance last Friday. "Overall it was a good first game next week will be a tough game."