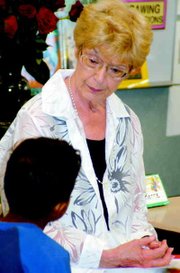 OUTLOOK - Dwight Eisenhower was President, fins were in with Detroit auto makers and the U.S. only had 48 states when Bobbi Quigley started teaching in the Sunnyside School District.
Last week she marked her 50th year in the district and 40th at Outlook Elementary, where she teaches first grade.
"There have been some kids who have tried to mathematically figure out my age," laughed Quigley, who got her teaching credentials at a place called the Central Washington College of Education, now known as CWU.
She didn't want to say her age for this interview, didn't want to take away the fun of yet another class of first graders playing the guessing game of how old she is.
Before Outlook, the Wenatchee native taught for a decade at Washington Elementary.
Quigley is an anomaly in an era when most educators retire after 30 years, since the state essentially tops out their retirement benefit.
What's kept her going 50 years, especially in the same district?
"I suppose when I first started it seemed like there was just something about the children, the parents, the camaraderie of the fellow teachers," Quigley said. "Since I first started everybody has just treated me so nice."
It also helped to have the support of her son Michael and late husband Keith.
"I have been very fortunate in that my family thought highly of educators," Quigley says. "My husband always made me feel there wasn't any other job that I could do that was more important than teaching. He was so proud of me for being a teacher."
During her long tenure she has seen the Outlook Elementary School building hit by fire on more than one occasion and she has experienced a teacher strike.
Some of Quigley's students have gone on to work in the Peace Corps or taken over the family farm. Others have presented legal cases before the U.S. Supreme Court and some have even followed in her steps to become first grade teachers.
Some of her former students have come back to Outlook to serve as a student teacher in her classroom and she has taught the children of many of her students. She thinks she may have even taught a third generation of family members.
"I have stayed around long enough that I have got to witness that," she said.
She's loved by her peers, students and parents.
And that makes it hard to think about leaving, even after 50 years.
"Parents will tell me I can retire, but that I have to wait because they have a little one coming along," Quigley laughed. She added, "My response to them is there are outstanding teachers in this school. If I'm not there, then there will be someone who may be even better."
Quigley says the biggest advancements she has seen in her 50 years as an educator are technology and collaborative efforts between teachers.
"When I first started it was like an island," she recalls of early classroom experiences. "As long as you kept your kids under control nobody checked on what you were doing."
To establish some kind of partnership, Quigley noted that even in those early years she and other teachers would meet periodically to share what worked-and what didn't-in the classroom.
Quigley praised current principal Robert Bowman and previous principal Cathy Mears for their leadership in making Outlook a quality place to teach.
She's been nominated a "Who's Who of American Teaching" 13 of the past 14 years.
It's an honor she doesn't take lightly.
"You have to have a high school student that has done well nominate you," Quigley said of the award. "The student has be in the upper percent of academics."
She added, "For a high school student to remember a first grade teacher, to have grown-ups go out of their way and tell me I was their favorite teacher, it puts wind under my wings. That's where you get 50 years."
And she's thinking about making it 51, or more.
"I keep thinking this is probably the year I should retire," Quigley says. "Then the other day a pregnant woman saw me and patted her tummy. She said, 'You've got to wait for this one.'"