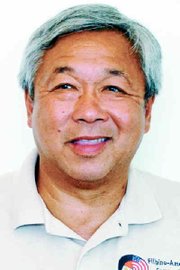 Rey Pascua of Sunnyside has been appointed to serve a three-year term on Governor Christine Gregoire's Commission on Asian Pacific American Affairs.
"I was urged by Yakima Valley community members to apply for it and even some individuals from the West side," Pascua said.
Pascua said the commission's role is to advise the Governor regarding concerns of Asian Pacific Islanders.
Among those concerns, he said, is education, health care disparities, civil rights issues and issues involving discrimination. But the biggest concern, he said, is immigration issues in the United States.
Pascua said that being appointed to the commission is important to him because it will give him an opportunity to address issues and barriers against making Asian Pacific islanders a true part of American society.
"To me, basically, the issues of Asian Pacific islanders are part of my passions," he said.
This isn't the first time he has served in this capacity. The first time was when he served under then Governor Dan Evans in the mid-1970s.
In addition to serving on the commission, Pascua is the president of the Filipino-American Community of the Yakima Valley and is one of the founders of the Filipino Historical Society of the Yakima Valley.
Pascua said there is only one other representative from Eastern Washington.
.