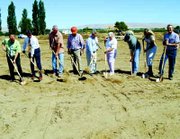 YAKIMA - The Sunnyside High School girls volleyball team matched up with three other teams at last night's jamboree in Yakima, winning one game.
The Lady Grizzlies played Burbank in the first match, splitting the two games. Sunnyside lost 25-20 in the first game and then came back to win the second, 25-16.
Sunnyside then lost 25-20 and 28-26 to Riverview and 25-21 and 25-22 to East Valley.
SHS Coach Mhike Dumo said in the first game with Burbank, his team didn't have time to warm up enough, resulting in some bad passes. Also, he said, the team wasn't paying attention to his instructions.
"In the second game they started to listen to me and they beat them (Burbank) easily," he said.
Mental mistakes, not paying attention to Dumo's instructions and learning a new defense all contributed to the Lady Grizzlies' struggles.
Dumo said his team made only 60 to 65 percent of their serves in the first match but were able to steadily improve on that figure.
Mental errors were blamed for the losses to Riverview and East Valley.
"They're learning how to play to how I coach," Dumo said. "We're trying to get on the same page."
He said his team is "awesome" on offense, but he has totally changed up the defense, something the girls have yet to get used to.
"All in all they toughed it out and worked hard," Dumo said of his team. "It's too bad we ended up on the losing side of the match."
He said his team will go back to the drawing board and try to figure out what went wrong, then go from there.
Sunnyside will open season play this Thursday, Sept. 6, with a home game against Kamiakin at 7 p.m.