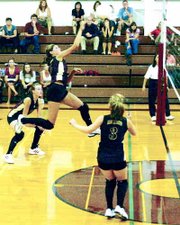 The Sunnyside Christian High School girls volleyball team opened season play last night, going down in three games to Liberty Christian 25-14, 25-22 and 25-8.
"We were slow and unagressive," SCHS Coach Tammy Bangs said. "This was our first varsity match for three of the players and they were not well prepared."
Bangs took the blame for not preparing her team, adding the intensity her players faced was probably something more than they had anticipated.
After losing the first game to the Lady Patriots, SCHS played the second game tough. It was mostly a see-saw battle until late in the game when Liberty Christian went up by several points. Still, the Lady Knights stormed back and were behind by only one point, 23-22 when a serving error gave Liberty Christian the ball back and game point at 24-22. An ace by a Lady Patriot ended the game.
In the third game the Lady Knights' energy seemed to abandon them in the hot, muggy gym and they never even threatened Liberty Christian in the 25-8 loss.
There were lots of mistakes in the game committed by the Lady Knights, Bangs observed.
"Some were very simple," Bangs said. "I was surprised to see so many of them. Chalk it up to first game jitters."
Bangs said her team is going to have to gradually work into getting used to the intensity of a varsity match. Her team needs to be able to make their decisions quicker, she said.
Melanie Van Wingerden led the Lady Knights with seven kills and two blocks. Joleen Van Wingerden was eight-for-nine in serving and Abby Bangs had seven assists.
SCHS will host Bickleton this Friday, Sept. 7, at 6 p.m. before heading to Burbank on Saturday, Sept. 8, to compete in the Columbia-Burbank Invite.
"The next couple of days we'll focus on the fundamentals of defense and getting the girls confidence on offense," Bangs added.