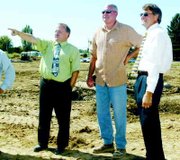 Ground was broken on the new Sun Valley Elementary School in Sunnyside on Wednesday. The new school will be just north of Sierra Vista.
The project contractor is Chervenell Construction out of Kennewick. Owner Gary Chervenell said his company started work on the first phase of construction last week.
The first phase will cost $9 million to complete and will include 42,000 square feet. The first phase will be mostly classrooms and administrative offices.
Capital Projects Coordinator Dave Plesha said students will probably eat over at the Sierra Vista Middle School until a cafeteria is built in the second phase, which will add another 30,000 square feet to the school. In phase two, more classrooms and a gymnasium will also be added.
Phase one construction on the new school is scheduled to be complete before the beginning of the 2008-09 school year and will open to start for that new school year. Plesha said initially about 400 students will attend. That number could rise to approximately 650 students once phase two is complete.
Dick Loofburrow of Loofburrow Architects said his company will start a study and survey this month and will have a better handle on long range plans by November.
Brian Piippo, an architect at Loofburrow, said the school district planned well for the phase two expansion so it will go smoothly when it begins. Everything will already be in place, he added.
Plesha added the start of phase two will depend on enrollment and work to modernize Washington Elementary School may be done first.
As of now, Chervenell Construction is working on footing excavation and deep plumbing on Sun Valley Elementary School.