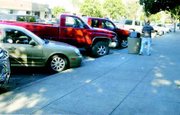 The city of Sunnyside's previous plan to install parallel parking at the Sunnyside Post Office most likely won't happen, but changes are going to be made.
People who back away from the post office on Edison Avenue often cause congestion at the intersection of Edison Avenue and Seventh Street and accidents have happened, the city has said.
Last spring it was suggested to do away with the current angled parking and switch it over to parallel parking.
Sunnyside Postmaster Lewis Gress said parallel parking is more difficult to do and just might cause more problems. He said he would like to see a combination of parallel parking and angled parking. His idea would be to take out the first three parking spots that are diagonal and turn them into parallel parking spots, then leave the rest as angled parking.
"That would eliminate congestion at the intersection," he said.
Sunnyside City Manager Bob Stockwell said the city is still going over design plans, but added something needs to be done about the congestion and the illegal u-turns people driving west on Edison Avenue make when parking.
He said the city would probably put a raised center line in the street to stop people from turning into the post office while heading westbound. Instead of parallel parking, Stockwell said the city would probably just eliminate the first three parking spots closest to the intersection to deal with the congestion.
Stockwell said he anticipates work starting on the project in the next 30 days, adding the city wants the job done before the winter season begins.