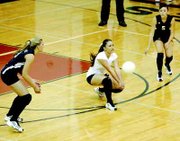 The Kamiakin Braves wasted no time in their three game win over the host Sunnyside Grizzlies Thursday night as the Braves won 25-10, 25-16 and 25-13.
Sunnyside Coach Mhike Dumo blamed his team's inability to listen to him as the cause of the loss.
He said in the first game of the match Sunnyside wasn't moving around enough and couldn't figure out what the Braves were trying to do.
"It took them through the middle of the second game before they started to adjust to Kamiakin," he said.
In that second game, Sunnyside was down 7-1 before they stormed back to tie the game. After going back and forth for a bit, the Lady Grizzlies finally succumbed to the Braves' pressure.
In the third game, Dumo said his team lacked the "kill factor" to go on, stating some members of his team gave up after losing the first two games.
"It's hard for the rest of the team to carry the load," he said.
Sunnyside (0-1) will now travel to Walla Walla this Saturday, Sept. 8 to participate in the Walla Walla Invite.
Statistics for last night's game were not given to the Daily Sun News.